When Daniel Bryan broken John Cena's arm in the recent Wrestle Mania, I was wondering what is "Daniel Bryan Workout and Diet Plan"? Did a heavy research on this and found the solution "Yes! Yes! Yes!". Here it is. Before getting in to Daniel Bryan Workout and Diet Plan, we will read few information about him
Do you know?
Born: May 22, 1981 (age 32), Aberdeen, Washington, United States Height: 5′ 10″ (1.78 m) Full name: Bryan Danielson Nationality: American Partner: Brie Bella (2012–)
Daniel Bryan inspires me by not taking any drinks or drugs and doesn't even watch television!.
He loves gardening (he grows raspberries, apples, strawberries and other edibles), and has a dog named Asparagus. He seems to love his dog so much! According to CT.com, Daniel Bryan says
I want to pick a few strawberries, eat a few strawberries, pick a few strawberries, eat a few strawberries." It's a gag, yes, but he has a reason for making it. "A lot of guys want to be rich and have nice cars and all that kind of stuff. I don't want any of that. I want to be comfortable. I don't want to have to worry about money," Bryan says. "I just want to be happy, you know?
Daniel Bryan Workout Plan
Watch this video "Outside the Ring : Hit the mat and grab a vegan cupcake with Daniel Bryan"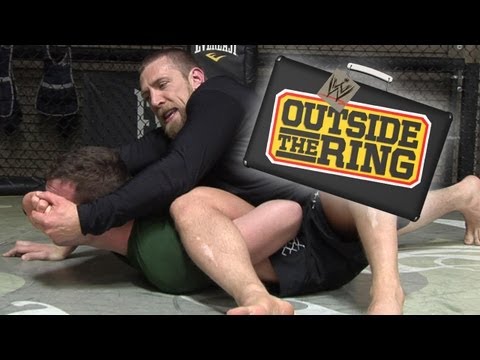 From this video, you can see Daniel Bryan Wrokout, Exercise, and sharpening his MMA Training from the legend Randy Couture's Xtreme Couture gym which improves his wrestling skills. I' am really sorry this time, I researched for more than 8 hours and couldn't find a single video of Daniel Bryan doing workout, exercising, training in gym or any other fitness academy. This was the only video which was available.
Daniel Bryan Diet Plan
From the above youtube video, you can find Daniel Bryan saying that is favorite restaurant is "Red Velvet Cafe" in Las Vegas. You can also see Daniel Bryan eating strawberry cupcakes which he loves so much. The chef who prepared this cupcake, shares in the video that the cakes are less than 200 calories, no eggs and no animal by products. When Daniel Bryan asks her behind the secret in preparing these cupcakes, she says "No" but you can find so many ideas by searching in FoodiesLoveThis.com. For e.g. click on this link
strawberry cupcakes
Found one thing interesting about his diet plan. Unlike other WWE Superstars,
Daniel Bryan is a vegan
! According to Ellen Kanner from HuffingtonPost, dated on April 16th, 2012 in a column "Meatless Monday",
Daniel was advised to try a vegan diet
. Daniel also found that generally Meat, Cheese and Dairy takes lot of energy to digest but a plant based diet is very easy for the body to digest. I like this statement from Ellen "Rather than using his energy to fight infection, Bryan could use it in the ring to slam his opponent." Daniel Bryan says, "My health is so much better. I'm bigger now than I was eating meat. My lifts in the gym are better. I'm in better shape. A lot of people thought you couldn't be a top-level athlete as a vegan, but people like Mac Danzig and Jake Shields are proving that's wrong. And it's better for me as a performer," . During his training schedule, Daniel seems to eat a lot of Asian food like
Brown Rice
and Vegetables, salad and protein shakes. When he is on tour, Daniel packs a lot of food like kale chips which he himself prepares that. Daniel Bryan says "My diet is very kale-heavy. It's so nutrient-dense. I stay away from fake processed stuff." Occasionally he takes vegan cupcake I believe that the above information from Ellen, Huffingtonpost would have been useful. Now comes the shocking part! On September 26, 2012, an author named "Michael dEstries" from another online magazine says writes about Daniel Bryan saying "WWE Athlete
Daniel Bryan Drops Vegan Diet Over Soy Allergy
"! Daniel Bryan says the below reason for leaving the vegan diet, finding this some people from PETA and animal lovers got angry with him. "I became a vegan for health issues and then I developed a soy intolerance," he said in an interview with WrestlingInc.com. "So, I've been getting really sick lately. it's a very unmanly way to stop being vegan, to have a soy intolerance. [Laughs.] But I was getting sick all the time, and they were trying to figure out what it was and they found out it was the soy. "Being on the road, being vegan and trying to get your protein in other than soy, there's just nothing to eat. There's soy in everything. Most of the vegan things you can eat are tofu dishes and whatnot, made out of soy. "But, we did a food/blood/allergy test to found out what i can eat and whatnot. So, it's not like I'm eating loads of meat or anything like that. I'm eating mostly eggs and stuff for my protein. Though we couldn't discover the more accurate Daniel Bryan diet plan (meal plan) but we can do some predictions about his meals as part of his diet plan
A Vegan Diet Plan
I did some research on Vegan breakfast, lunch and dinner and guess Daniel Bryan must having any of the below as his diet plan.
For Breakfast,
Daniel Bryan must have taken any of these recipes "Breakfast bars, French toast, Idlis, Muffins, Quinoa, Rice, Scrambled tofu, Sweet potatoes, Tempeh bacon, Vegan Brunch"
For Lunch,
Daniel Bryan would have eaten "Bean dips and spreads, Chickpea sandwich, Couscous, Eggplant spread, Lentils and grain, Maki sushi, Protein-packed stews, Soba, Spring or summer rolls, Vietnamese noodle salad"
For Dinner,
he would have tasted "Vegan Tofu and Vegetable Pot Pie, Easy, Tasty Chickpea Curry, Khara Bath, Quick, Vegetarian, One-Bowl Meal, Tempeh Deli Salad, Kimchi Tofu Summer Rolls, Nutty Farro Pasta with Edamame Pesto, Vegetarian Bánh Xèo (Vietnamese Crêpes), Potato Tacos (Tacos de Papa), Very Simple Dal Palak". Ok now you would have guess, how I was able to predict the above recipes as Danie Byran's breafast, lunch and dinner menus as part of his diet plan. It simple, just did some research on Vegan breakfast, lunch and dinner and found the above items. For a healthier living you too can try this. To get ideas for preparing any of these recipes now you can search in FoodiesLoveThis.com itself!