So eager to know about WWE Superstar "John Cena Workout and Diet Plan" then just like John Cena says, "Never Give Up" and "Rise Above the Hate" on your body shape, diet plans and fitness.  I know you cant wait to read about "John Cena Workout and Diet plan" but I would suggest you to read few lines about John Cena.
Do you know?
According to Biography website,
John Cena had just $500 in his pocket to make it across country and get settled
. To make ends meet, he
folded towels and cleaned toilets
at a Gold's Gym in Venice Beach. And because he couldn't afford an apartment, he shacked up in his 1991 Lincoln Continental. In early 2000, during a casual conversation Cena had with a wrestler at Gold's who encouraged the gym employee to take classes at Ultimate Pro Wrestling (UPW), a former World Wrestling Entertainment developmental company. John Cena dad was a wrestling announcer and businessman. John watched his wrestling heroes such as Hulk Hogan, Ultimate Warrior and Shawn Michaels go at it in the ring. With these inspiration and hard work, now John Cena is a WWE Champion
John Cena Workout
Watch this John Cena Workout video and be inspired
DAY 1 legs & calves:
Seated calf raises 10 x 20-10 standing weightless calf raises 4 x 25 standing single-leg curls 4 x 20-25 leg presses 5 x 20 leg ext 4 x 15 squats 4 x 10 hack squats 3 x 15 supersetted with: single-leg ext 3 x 10
DAY 2: chest
incline machine press 5 x 20 incline barbell press 5 x 20 machine flies 3 x 15 cable flies 3 x 15 bench 3 x 10
DAY 3: Arms
preacher curls 5 x 12 standing BB curl 3 x 10-12 seated DB curl 3 x 10-12 standing cable curl 3-4 x 12 rope pressdowns 3 x 20 supersetted with: single-arm cable pressdowns 3 x 10 lying tricep ext 6 x failure overhead cambered ext 3 x 20 seated BB ext 3 x 20 dips 4 x failure
DAY 4: Shoulders
rear delt machine flies 5 x 20 machine overhead press 5 x 20 machine side laterals 5 x 20 seated military 3 x 10 DB laterals 3 x 12 standing BB press 3 x 10
DAY 5: Back
Lat pulldowns 5 x 20 bent BB rows 5 x 12-20 1-arm DB rows 5 x 12-20 Deadlifts 4 x 8-15 high rows 4 x 20 pullups 4 x failure shrugs 5 x 20
John Cena Workout Video
John Cena Diet Plan
I will never disappoint you with general advice, so check this complete John Cena Diet Plan. The John Cena Diet Plan is divided into six parts. This is divided as per the number of meals which are to be taken in order. It will ensure that you get the right amount of nutrients.
Breakfast
14-16
Boiled Eggs
(you need to have White portion of 8 Eggs only).
Oat Meat
(Quantity : 100-150gm).
Raisins
(Quantity: 50gm)
Milk
(Quantity: 2 litres).
Lunch
High Protein Food and Protein Shake (600 ml).
Chicken Breast
(Quantity : 2). Rives and Brown Veggies (100 gm).
Mid-Afternoon Diet
Wheat Bread (8 slices) Tuna
Pre-Workout and Post-Workout Diet
Whey
Protein
Shake
Bananas
Dinner Diet
Grilled Fish
(200-250gms).
Pasta
/Brown Rice (Alternate days switching).
Boiled Vegetables
Green Vegetable Salad
Source: GetMascular One more video of John Cena Workout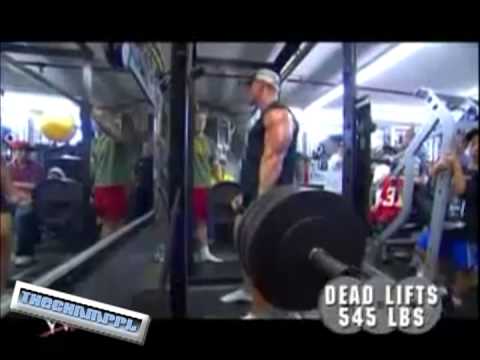 I believe you must be a great fan of John Cena so I would like to encourage you to comment on John Cena Workout and Diet plan